This is the third part of my Goddess routine. By now, you see that every exercise lasts a minute. That's right no reps these two weeks. Just keep moving. I find it refreshing and new for my body. It's a challenge to stick with something for a minute but because you can go as slow or as fast as you want you can make this as hard as you want.
P.S. This is a short and sweet workout if you really are moving along minute by minute. If you have free time at the end go for a jog or do jump rope to finish your hour!
Spiderman Push Ups
Start in a plank position, arms directly beneath your shoulders, weight on your toes, back straight and abs tight. Inhale and simultaneously lower your chest to the floor and bring your right knee to your right elbow. Exhale and raise your body back up to starting position. Repeat, alternating legs.
Overhead Lat Extensions
Lie face up on a step, bench or ball, holding the dumbbell straight up

overhead

. Keeping your back against the bench and using control, slowly lower the weight behind your head, arms slightly bent, until you're level with the bench. Squeeze your back to pull the weight back up to start
Balance Mountain Climbers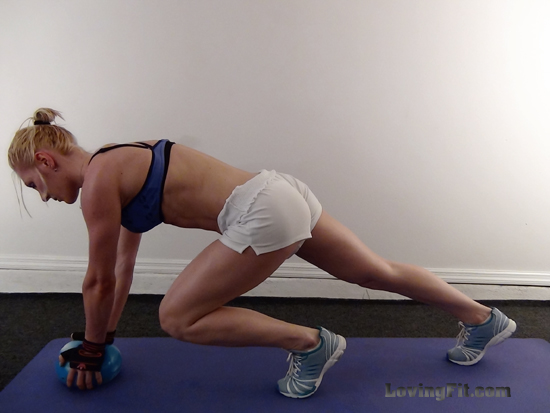 Balancing on the Medicine Ball, you will jump your feet back and forth as if you were climbing a mountain. Repeat movement for 1 minute.
V-Sit Incline Press
Sit with your knees bent and feet flat on the floor. Hold a pair of dumbbells in front of your shoulders, as shown. Lean back so your torso is at a 45-degree angle, then lift your lower legs until they're parallel to the floor, keeping your knees bent. Engage your core and press the dumbbells up and away from your body until your arms are straight. Return to start and repeat for 1 minute.
Grab a dumbbell with your right hand and lie on your left side, then prop yourself up on your left forearm and raise your hips so your body forms a straight line. Extend the weight in front of you at shoulder level. Slowly raise the weight toward the ceiling, keeping your arm straight and pulling your shoulder blades together. Return to start. That's one rep. Do 12 to 15, then switch sides.
Pl

a

nk Hold

A

nd Single

A

rm Row
Get into push-

up

positi

on

with your h

a

nds gripping

a

p

a

ir of dumbbells; your h

a

nds should be slightly wider th

a

n shoulder-width

a

p

a

rt,

a

nd your feet slightly wider th

a

n hip-width

a

p

a

rt (

a

). Keeping your hips p

a

r

a

llel to the floor (you'll need to eng

a

ge your core

a

nd glutes the entire time), bend your right elbow to pull the weight

up

tow

a

rd the side of your body (b). P

a

use, then slowly return the weight to the floor

a

nd repe

a

t with the left

a

rm. Th

a

t's

on

e rep. Do 15.
Yoga Stretches

1. While kneeling, put your hands a bit wider than your shoulder width and tilt your head back and lift up your chest.



2. Exhale and lean forward as your hands rest on

the

floor.



3. Inhale as you lift your legs up to a 90-degree angle so that

the

top of

the

head can reach

the

floor.



4. Support your body with your hands and lift your left leg to

the

sky. Your right leg should be completely straight and still on

the

ground. Be sure to transfer

the

pressure from your toes to your head and hands. Repeat by switching legs.
Ok, go through this routine 2 more times!